GROUP EXCURSIONS AND TEAM BUILDING EVENTS
Sun Buggy WAY MORE FUN Fun Rentals Famous Team building event for groups small to Large can provide more seat time (behind the wheel where the pedals are!) for your larger groups than any other driving experience vendor!
How do we do it?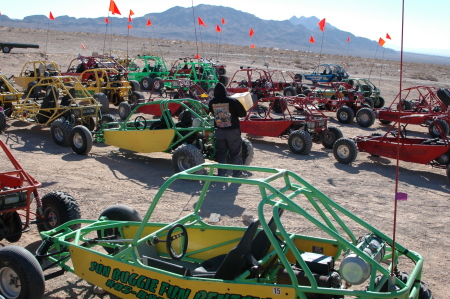 Sun Buggy Fun Rentals has a huge fleet of custom built off road vehicles (we build them ourselves!)How many buggies are in this picture? encompassing over 110 seats and growing. Having all these seats means that unlike other vendors at large group events, your groups are spending most of their time driving instead of waiting their turn. Imagine your group of 400 people with 110 seats over a 4 hour event, each client has about 1+ hour of seat time! Now picture the "Other Guys" with likely less than 20 seats in the fleet, each guest out of 4 hours get about 12 minutes of seat time. Because of this simple math, other vendors will do lots of "foreplay" consisting of training, trivia, instruction, ceremonies, food, video games, ...anything they can come up with to mask the fact that you're all standing around waiting for your 12 minutes of glory! Sun Buggy Fun Rentals also has a large staff that allows us to provide the individual attention that you deserve. Our Baja adventures where you're in a high speed chase around the desert are kept under 6 cars each because as anyone who has done off road driving knows, lining 20 cars up will not make for a fast paced thrill ride, but rather a snails pace follow the leader tour. Our staff has already orchestrated numerous events for several corporate clients. This is not something new for us, we know what it takes to make your event a success and can quote a special package just for your group. Some of our satisfied clients include:
General Motors

Lamborghini

Sony

Alcatel-Lucent

IBM

Firestone

Deloitte

American Power Corporation

Bell Canada

Rolling Stone Magazine

Panic at the Disco

...and many many other satisfied clients.
Many of our corporate groups came as a result of the thrilling rides that individuals had on vacation in Las Vegas with their families and friends. Nothing says customer satisfaction more than people who come back again and again! If you're planning an event call and ask about a demo ride because this is something that has to be experienced to be believed!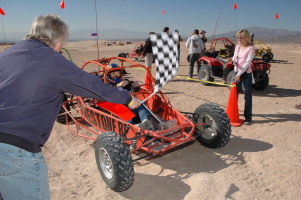 our Famous track event Sun Buggy Fun Rentals team building track event is off road racing for the uninitiated! Our experts design tracks out on the sand dunes, not in some empty lot on the dirt. Our 3/4 scale desert race cars are very capable yet easy to drive and we setup tracks that take advantage of the unique capabilities of these very special vehicles. Everyone gets involved, flagging the cars, running the timing gear, cheering for companions, and of course trying to get the best lap time. Having a 15,000 acre off road park to play in, we can setup from one to several tracks and can also structure the competition to cater to the group. Want to pit one division against another? How about dealer and client teams? We can even take finalists from several different tracks and gather everyone around a finals track for a real "who's the fastest of the day" event complete with prizes! Facilities can be provided asst well as various food options from snacks to barbecue.
Sun Buggy Fun Rentals has you driving something very special, our in-house designed and built desert racers. Several other vendors have approached us to try and buy our buggies for their own fleet and we won't sell them. This just isn't like the ATV you have at home or could buy yourself down at your local off road shop, our buggies have been refined over years of rentals and although extremely capable and nimble they're also very easy to operate with just go, stop, and aim (gas pedal, brake pedal, and steering wheel) just like your automatic car. Every car has a full reinforced roll cage, a 4 point racing harness type seatbelt, and will make you feel like a real professional race driver. You cannot fall off of a buggy like you could an ATV, and our buggies have a low center of gravity meaning that they're very stable.


options for large groups
BuggyCross
We can convert the MotorCross Track into a BuggyCross track for your large group event. Our technicians setup the desert racers differently to take advantage of the tight course and provide maximum thrills! Typically only available for groups of more than 100 people:
The Road Course
Sun Buggy Fun rentals can secure the Road course at the Las Vegas Motor Speedway complex for your event. Typically for groups of 100 or more, like the BuggyCross above, our technicians setup the desert racers completely different for this venue to give the feel of a mid engine indy car! Gearing ratios, suspension, tires, and wheels are all dialed in to let you drift the curves like a pro! This Road course event is well suited to groups who want to try race driving but need something far beyond what a small go-kart track can offer.
Both the BuggyCross and the Road course are located at the Las Vegas Motor Speedway Complex only 15 minutes from the strip, and only 2 miles from our 15,000 acre desert playground! With our large staff of professionals and huge fleet of buggies, Larger groups can have all three options running simultaneously!

Whatever the occasion, team building, rewarding employees, or private parties, Sun Buggy Fun Rentals provides memories that will last. Get your corporate logo put on the side of a few racers for great photo opportunities. We can also provide custom made t-shirts to commemorate the event which is a great takeaway so that the memory is rekindled time and time again! Call 1-866-728-4443 or 1-702-644-2855 and speak to one of our specialist for a customized event quote that's going to suit your groups needs and goals. Please note that as all of our 150 seats are normally booked on Saturdays large group events on Saturdays have a 10% surcharge added to the cost of the event.