Special Deals at SunBuggy
CHASE
The Mini Baja Chase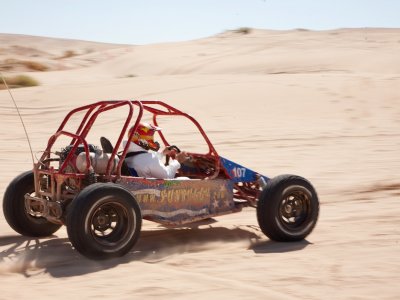 This is the REAL DEAL, the Vegas CHASE EXPERIENCE everyone talks about (as seen on over 25 TV Shows WORLDWIDE!)
The Primary Reason you're driving a SunBuggy desert racer is that no plain off-the-shelf vehicle could last 5 minutes on this insanely fun course! Don't be duped by tours with plain store bought UTV's, Off Road Golf Carts can't traverse grades over 15% (read the dashboard warnings). Our Most Popular Las Vegas Off-Road run - a wild desert chase on 15,000 acres with the Las Vegas Strip in view from the tops of the dunes! note that this is more than an Off-Road TOUR, rather a full on Off-Road CHASE!
More Info
The Mini Baja Night Chase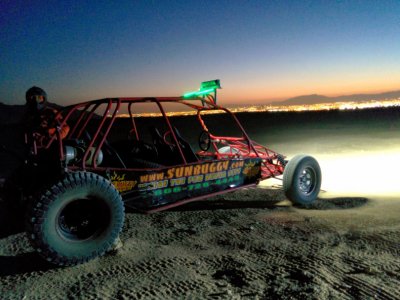 Running off road after dark is an otherworldly experience - Welcome to Planet SunBuggy! Before you launch into the Las Vegas Nightlife, kickstart your senses with this MIND BENDING DRIVING EXPEREINCE - The VEGAS MINI BAJA NIGHT CHASE! By popular demand SunBuggy is offering our Mini Baja Chase off-road experience at night! This a very memorable once in a life time experience is the perfect way to set your Vegas Night off, particular if you've been subjected to conventions, meetings, and seminars during your daytime. Start your night with the heart pounding thrill of a high intensity chase in the dark desert overlooking the Las Vegas Strip! You will Bypass the lines at Las Vegas Club SunBuggy - your VIP Club Passes at this Vegas Ultralounge Sand Covered Nightlife Playground is all inclusive!
More Info
TOUR
The Vegas Dunes Off Road Tour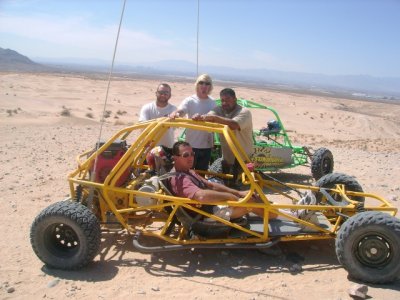 The Vegas Dunes Off Road Tour allows those who wish to experience the magic of Off-Road driving on the sand dunes a chance to take the wheel and see what it's all about. The same area as our MIni Baja Chase just 15 minutes off the strip, however this is a casually paced Las Vegas Tour experience where you're following a tour guide as they meander through the dunes. Available in 30 or 60 minute durations.
This is the Standard 30 minute Off Road Dunes Tour .
More Info
The Valley of Fire ATV Tour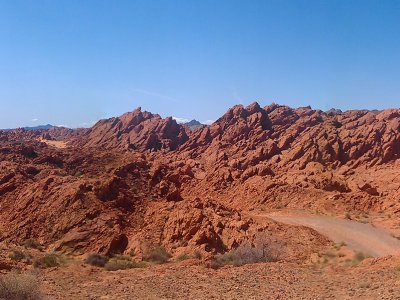 A Sedate and Scenic nature tour, SunBuggy is the only vendor permitted by both the Parks Department and the BLM to go right into Valley of Fire State Park! While not our fast run this beautiful ride through varried desert terrain and bright red sand dunes is popular with honeymooners, nature buffs, and photographers for the great out of this world pictures you'll get. As this is a casual paced scenic ride we offer the option of an ATV Tour, a UTV Tour, or SunBuggy Dune Buggy Tour. This is an all day experience!
More Info
Vegas Family Fun Romp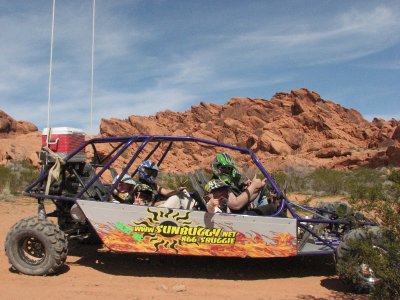 Mom! Dad! Bring the Kids on an adventure that'll never be forgotten in specially designed family buggies! The Las Vegas Family Fun Romp is 60 minutes of thrilling Off Road Driving that you're sure to NEVER FORGET!
More Info
Off Road ATV Tours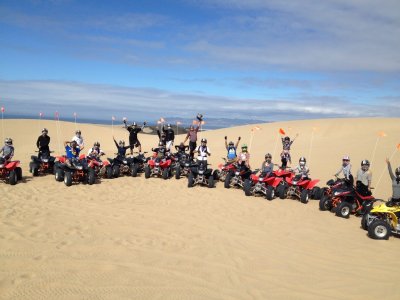 Sun Buggy is your Las Vegas Off Road ATV Tour Experts! We have a fleet of ATVs for rent that are all top name brand Quads! From sporty Honda 250cc ATVs, Polaris 330cc ATVs, and Yamaha 350cc 4x4 ATVs. (we don't buy or rent the immitation off brand quads, just the good stuff) The ATV Tours and ATV rentals are not to be confused with our Dune Buggy experinces. While our Dune buggy experiences have been featured on over 40 television shows from around the world, many don't realize that we also have a very well maintained fleet of over 130 ATVs! We've been around for a long time making happy memories for thousands of clients, so for either an ATV or a Buggy it just doesn't get any more legit than a SunBuggy Las Vegas Off Road experience. As ATVs are different vehicles we have special experiences designed specifically for ATVs. There are currently 3 different types of ATV off road experiences we're offering from our Las Vegas Location. Click for More Info on your ATV Options at SunBuggy Las Vegas
More Info
The Mini-Dakar Off Road Tour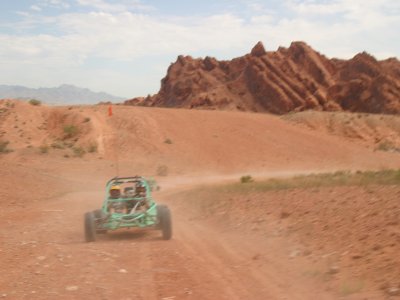 This gives you 2 very different vehicles at 2 very different locations. An ALL DAY EVENT you'll be driving an ATV for a 3 to 4 hour Guided Off Road at the serene and scenic Valley of Fire State Park, Taking a lunch break with made to order Sub Sandwiches at Tiffany's Sub Shop in Logandale, and then doing a high intensity 60 minute Off Road Chase Tour driving a Sun Buggy Desert Racer at the Vegas Dunes Off Road Recreation Area!
More Info
Off Road Tram Tours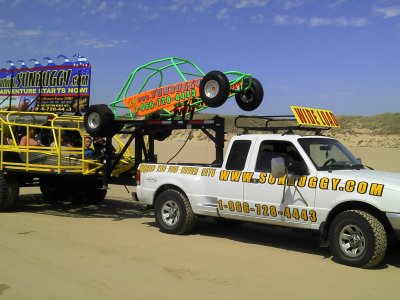 Enjoy a ride in a GIAGANTIC SunBuggy Off Road Tram through the High desert Terrain just outside of Las Vegas.
More Info
Vegas Dunes ATV Tour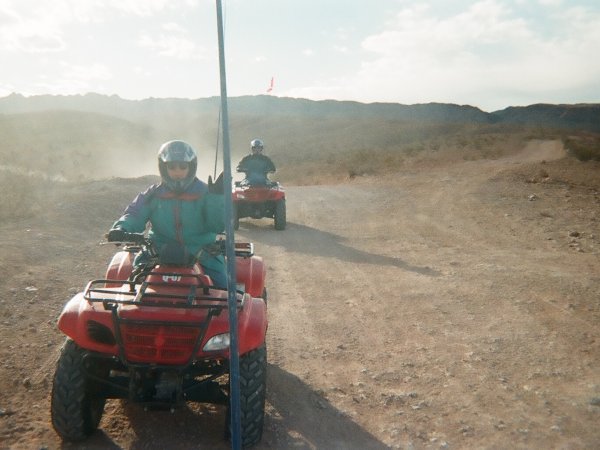 Come for a ride at the Vegas Dunes, only 15 minutes from the strip! This is an ATV ONLY tour, Because ATVs are not as forgiving as our Sun Buggy Desert Racers, you MUST BE OVER 18 and should have prior ATV experience!
More Info
Las Vegas ATV Tour Pack

You've come from far far away where you don't have dunes and desert like you see in Las Vegas - Take an ATV tour through the dunes overlooking the Las Vegas Valley with a View of the Las Vegas stip! This All Inclusive Package insludes a shjuttle from and back to your resort, a 1/2 hour on an ATV ride (We don't count the time you spend in the shuttle as a part of your tour!) and a Free Las Vegas SunBuggy T-shirt to take home with you as a reminder that you Did the Dunes in Las Vegas! This is hands down the best deal going for an ATV tour!
More Info
EXPLORE
Amargosa - Big Dune Adventure Tour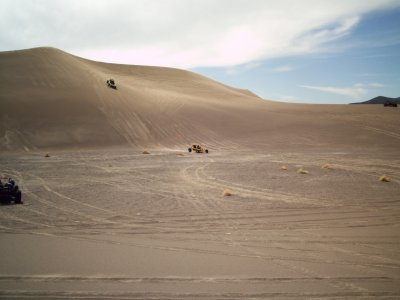 Amargosa Means 'Big Dune' and they are so steep and so tall that you're not likely to get to the top of many of the larger dunes here, but we know you'll have fun trying. This Free Roaming Off Road Tour is best for Repaeat visitors who've had the benifit of training on our other Off Road Adventure Tours. Requires a Minimum of 4 vehicles rented as it's a few hours outside of Vegas.
More Info
GROUP EVENTS
Bachelor Parties

Sun Buggy is the ultimate wild bachelor party adventure! The Vegas Mini Baja Chase is so insane it'll make you WANT to settle down and get married!
More Info
Family Fun

A Sun Buggy Desert Adventure creates a unique memory that will last a lifetime, there's no mistaking this for what you did on your last vacation.
More Info
Corporate Events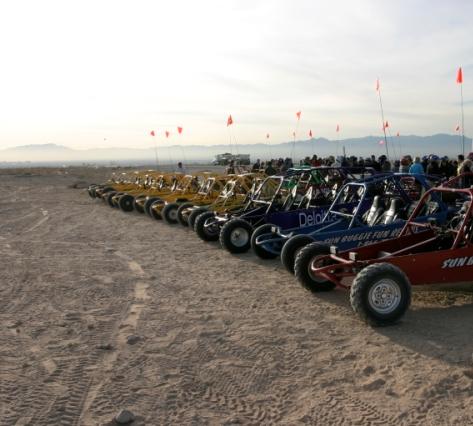 Ultimate Corporate Team Building and Incentive Events at Sun Buggy Fun Rentals in Las Vegas Nevada and Pismo Beach California, Have dealer client teams, team building, east versus west, red versus blue, Sun Buggy has done it all and will make your event a memorable one!
More Info
Sunbuggy After Dark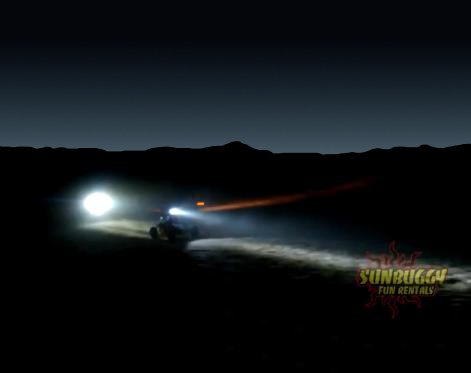 sunbuggy after dark - Las Vegas Corporate events at night are AMAZING
More Info